Home - Products - Reports - Buying - Construction - Instructions - Tests - Can Fish Hear? - Why Do Fish Bite? - A Fishes View - Order Blank - Secure Server - Dealer Info - FAQ

~~~~~~~~~~~~~~~~~~~~~~~~~~~~~~~~~~
ScentHead TM ~ ScentHead TM ~ ScentHead TM
~~~~~~~~~~~~~~~~~~~~~~~~~~~~~~~~~~


--------- Buying ScentHeadTM Baits --------
The best place to buy ScentHead baits is from your local bait shop or fishing tackle dealer. By shopping locally, you not only save shipping and handling charges, but have the chance to get the latest "buzz" on local conditions. Ask for "ScentHead" baits by name... have your dealer contact us for wholesale sales.
If your local shop doesn't yet carry ScentHead baits, you can also order them directly from us. We offer a complete selection of ScentHead Sets, supplies, and parts.
All of our products are shown in detail on our Products page.
You can order from us in any of the following ways:
---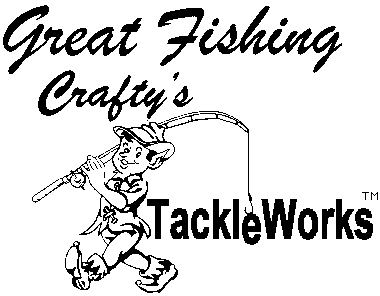 A Division of Crafty's FeatherWorksTM
480 Pat Ave., P.O. Box 370
Overton, NV 89040

1-888-286-8061 (Toll Free Voice)
1-702-397-8211 (International Voice), 1-702-397-2662 (Fax)
email@scenthead.com
---
Web page design, text and photos Copyright© 2001 by Crafty's FeatherWorks, Overton, NV 89040. All Rights Reserved.
Home - Products - Reports - Buying - Construction - Instructions - Tests - Can Fish Hear? - Why Do Fish Bite? - A Fishes View - Order Blank - Secure Server - Dealer Info - FAQ