Home - Products - Reports - Buying - Construction - Instructions - Tests - Can Fish Hear? - Why Do Fish Bite? - A Fishes View - Order Blank - Dealer Info - FAQ

~~~~~~~~~~~~~~~~~~~~~~~~~~~~~~~~~~
ScentHead TM ~ ScentHead TM ~ ScentHead TM
~~~~~~~~~~~~~~~~~~~~~~~~~~~~~~~~~~


---------- The View ----------
From the fish's view:
The sonic blades are transmitting sounds of a bait fish in trouble. The ScentHeads adds to substance - making the bait worthwhile to catch. And when they see the eyes they are convinced it's for real. Should they cross a scent line laid by previous casts or get behind the bait on their way to strike -- the scent erases any doubt that may have existed that this is dinner & desert all wrapped up in one!
From the Fishermen & Women view:
Fish don't get big by biting the same bait over and over. They get smart real quick. Now how many spinner baits are there out there? Millions! They all have blades, wire frames, skirts, hooks & weight. The difference between them are minimum -- not enough "difference" from one they already got hooked on -- (and released as most people do now days.) So why waist your time & effort casting a past experience? (To a fish that is.)
In the ScentHead you have a brand new experience for them. They aren't already trained as this is something they have never seen, heard or smelled.
Common Sense at work here.
As to the ScentHead itself, it protects your tie on knot from sharp rocks, trees, docks, and debris. Also the line hinge points is not the knot itself but ahead at the ScentHead line hole. The knot doesn't wear. A lot of spinner lures break off at the knot. -- we eliminate this wear spot with ScentHead. After all we don't want to loose a really Big Fish. -- We would like PICTURE OF IT! And here's a sight and thrill no one gets tired of: Flat lily pad fishing! ScentHead really drives Bass wild. --Here's why: cast way back in the pad field. Stop the bait in mid air. This straightens it out when it hits the pads and it doesn't go in "Backwards". Start to retrieve immediately. (Fairly slow) Hold your rod high to keep the line out of the pads, ScentHead will tip the bait flat to slide over the pads one eye down - just like a real bait fish. The blades are splashing water and on any opening ScentHead will drop to the vertical until it hits solid pads again. Believe me, Bass get so excited they will blast right through the pads to grab it! Note: wait till your feel the fish before setting the hook! I know, I know, this is real hard to do as the sight of the "explosion" says "set". I'm no different as I've taken the bait away from fish too.
Enough said - Lets go Fishing!
---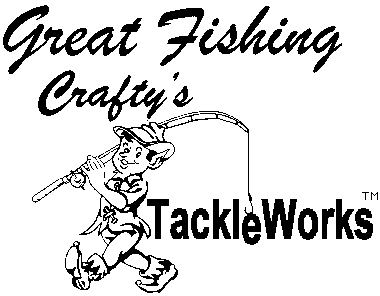 A Division of Crafty's FeatherWorksTM
480 Pat Ave., P.O. Box 613
Overton, NV 89040

1-888-286-8061 (Toll Free Voice)
1-702-397-8211 (International Voice), 1-702-397-2662 (Fax)
email@scenthead.com
---
Web page design, text and photos Copyright© 2001-2005 by Crafty's FeatherWorks, Overton, NV 89040. All Rights Reserved.
Home - Products - Reports - Buying - Construction - Instructions - Tests - Can Fish Hear? - Why Do Fish Bite? - A Fishes View - Order Blank - Dealer Info - FAQ