Home - Products - Reports - Buying - Construction - Instructions - Tests - Can Fish Hear? - Why Do Fish Bite? - A Fishes View - Order Blank - Dealer Info - FAQ

~~~~~~~~~~~~~~~~~~~~~~~~~~~~~~~~~~
ScentHead TM ~ ScentHead TM ~ ScentHead TM
~~~~~~~~~~~~~~~~~~~~~~~~~~~~~~~~~~


Field Reports About ScentHeadTM Baits:
Professional Guide:
"I recently had a client, who, when we got to the fishing area opened his tackle box and took out the ScentHead.

"I laughed so hard I almost fell out of the boat. Why would anyone pay a guide and fish with that contraption questions sanity.

"But I didn't laugh very long.

"At the end of the day I wasn't laughing at all.

"I have seen hundreds of baits in my profession and I have never seen any as phenomenal as Scenthead."

---
Louisiana:
"I love the ScentHead! It was easy to use ... kept the line knot in good shape & produced like nothing else did last weekend at Toledo Reservoir. As the fish definitely loved what I was throwing. I enclosed a picture of two big bass caught within a cast of each other ... both over 7 pounds! The crazy thing was ... that was my first two casts! From then on ... I caught 10 over 5 pounds & an untold number under. I believe this unit is blessed with numerous good ideas, action, and all the facets of fishing tied up into one bait! It can be slow rolled ...jigged ...cranked to the surface .. etc. It's a killer on the big boys ... they hit hard & hold on like I haven't seen before! If I had been in a fishing tournament ... my culled top five would have pushed 32+ pounds... that is incredible!"

---
Michigan:
"Yeah, I know I didn't take the 2nd line of instructions seriously (use a 20# test line or more as we don't want you to loose a big Bass or the ScentHead.)

"Anyway, I hooked, fought, and lost ,(line broke), the biggest Bass I ever had on - and lost the ScentHead also."

---
Wisconsin:
"Hooked into something real big - never seen it - broke line lost everything. (Old line? Star drag set too tight? 20# line or more means a good, new line!)"

---
Louisiana:
"I can't believe this bait (ScentHead)

"Keep track to about 45 - speckled trout (sea) caught something over 60 in an afternoon."

---
Oklahoma:
"Finally had a chance to go fishing and try out the ScentHead.

Middle of the day, very hot, water near 80 degrees and clear. Not much of a spinner bait situation. Caught the first fish on the third cast off a rocky minor point; just shy of five pounds. Caught the second out of some brush in six feet of water after my buddy threw in four times with worm: let it fall and cranked twice. About the same size, bit skinnier. Missed one more a bit later."
---
MORE FISH, BIGGER FISH PER HOUR THAN ANY OTHER BAIT! Trust me. BC Roemer
---
Send us your comments!

We'll try to post as many as time and space permit.
(Of course we WON'T post your name or address!)

Email us at: email@scenthead.com
---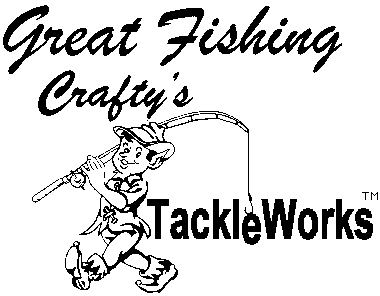 A Division of Crafty's FeatherWorksTM
480 Pat Ave., P.O. Box 613
Overton, NV 89040
1-888-286-8061 (Toll Free Voice)
1-702-397-8211 (International Voice), 1-702-397-2662 (Fax)
email@scenthead.com
---
Web page design, text and photos Copyright© 2001-2005 by Crafty's FeatherWorks, Overton, NV 89040. All Rights Reserved.
Home - Products - Reports - Buying - Construction - Instructions - Tests - Can Fish Hear? - Why Do Fish Bite? - A Fishes View - Order Blank - Dealer Info - FAQ